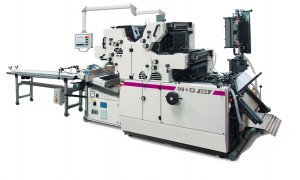 Whilst reel fed manufacturing is ideal for higher volume requirements, we also have the facilities to either overprint standard stocks in 1-4 colours or, alternatively, pre-print sheets for conversion into bespoke envelopes.
Typically best suited for runs of up to 100k, our dedicated envelope presses are designed to perform at a consistently high quality and can operate at speeds of up to 60k envelopes per hour for 1 and 2 colour work in certain sizes.
Supported by the same Computer to Plate technology as our Heidelberg B2 presses and operated by experienced staff with a plethora of knowledge about the print and envelope processes, we can supply printed envelopes to include custom manufactured stocks and envelopes ranging from wage pockets up to C3+ from a range of available stock products which is somewhere around 1000 lines available for speedy delivery and, if there still isn't quite the right size within that range, the bespoke option is always available.